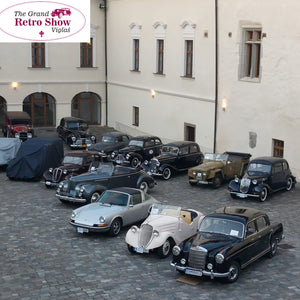 The Grand Retro Show Viglas - Tools for restoring old cars
Every year, the courtyard of the medieval castle Viglaš (Czechia) hosts a meeting of historic vehicles manufactured until 1945. The Grand Retro Show Viglas. It's not only a showcase of rare, beautifully restored vintage cars, but also a parade of the era's costumes, which the enthusiastic owners of vintage vehicles adapt to their year of manufacture. This adds to the retro atmosphere of the meeting.
This year, with the flexible FLEXISANDER tools, we also had the opportunity to be part of the whole show. As part of a programme of presentations on the latest trends used in the restoration of historic vehicles, we impressed the owners and visitors to the show with a demonstration of our flexible tools for puttying and sanding rounded surfaces.

We have had the following feedback:
"If I had this flexible tool when I restored my car, I would have had the bodywork done in half the time."
"The advantage is that even if I have a curved surface, this tool grinds the whole surface."
"Just a little pressure on the handle and the tool responds immediately and creates the ideal curve. And that's exactly what I need."
"For what these tools can do, the price is beyond good!"
Overall, attending this show was not only a wonderful cultural event for us, but from the overwhelmingly positive feedback, it was also further confirmation that these amazing flexible FLEXISANDER tools need to be part of every professional and amateur enthusiast's essential equipment.
If you're passionate about restoring a vintage vehicle to its former glory, don't miss out on the game-changing advantages of the FLEXISANDER tools. Equip yourself with the best, and ensure your restoration project stands out.
Invest in FLEXISANDER today and make your vintage car restoration smoother and more efficient!
---